Singapore docks (photo: Yuri Kazepov, 2004)
Ernst-Thälmann-Park and Danzigerstraße, Berlin (photos by Matthew Gandy 2013)
Battersea Power Station 2006 and East Reservoir, Hackney 2010 (photos by Matthew Gandy)
A view of Pampas landscapes near downtown Buenos Aires (photo: Matthew Gandy, 2008)
Bucharest, Romania (Photograph by Henning Moser)
1
2
3
4
5
Published in IJURR
Volume 37 Issue 2 (March 2013)
Author: Berna Turam
Abstract This article explores and theorizes the ways in which urban space and...
Volume 37 Issue 2 (March 2013)
Author: Alex Schafran
Abstract Communities on the fringes of the American metropolis have recently...
Abstract Historically, the urban was the condition of possibility for the political, but the symbiosis of the two has been concealed by the rise of the state and the concomitant development of the social sciences. The effort to recover the connection by denoting a separate domain of 'urban politics' is self‐defeating, because it re‐instantiates an ontology of the political that consigns the urban to the domain of 'low' politics. The...
Studies in Urban and Social Change
by Kiril Stanilov, Ludĕk Sykora
Published in: October 2014, Paperback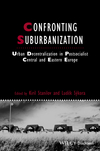 Other books in the series:
Latest News
Posted Date: 11 July 2014
Posted Date: 10 July 2014
Lecture Series
Foundation for Urban and Regional Studies
The Foundation for Urban and Regional Studies was set up in 1995 as a charity under the Companies Act. Its main source of income is the surplus generated by the International Journal of Urban and Regional Research, the leading critical urban and regional studies journal established in 1977 and published by Wiley-Blackwell. IJURR is run by a wholly-owned subsidiary of FURS.