Wroclaw, Poland (Photograph by Iwona Wozniakowska)
Singapore Marketplace (Photograph by Kathleen Noreish)
Bucharest, Romania (Photograph by Henning Moser)
Bucharest, Romania (Photograph by Henning Moser)
Belgium, Brussels (Photograph by Pascale Mistiaen)
1
2
3
4
5
Published in IJURR
Volume 35 Issue 5 (September 2011)
Author: ELVIN WYLY
Abstract Recent anxieties about the viability of critical and radical...
Volume 33 Issue 3 (September 2009)
Author: MATTHIAS BERNT
Abstract Recent discussions of urban governance have emphasized a trend...
Abstract State rescaling is the subject of a continuously growing literature that provides valuable insights into our current understandings of globalization, the spatiality of the capitalist state and urban and regional development. There have been, however, growing concerns about the wider applicability of this literature. Since the bulk of state rescaling studies have focused on North American and European examples, the existing...
Studies in Urban and Social Change
by Gavin Shatkin
Published in: October 2013, Hardcover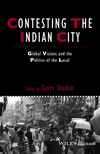 Other books in the series:
Latest News
Posted Date: 24 April 2013
Posted Date: 19 April 2013
Lecture Series
Edgar Pieterse
Foundation for Urban and Regional Studies
The Foundation for Urban and Regional Studies was set up in 1995 as a charity under the Companies Act. Its main source of income is the surplus generated by the International Journal of Urban and Regional Research, the leading critical urban and regional studies journal established in 1977 and published by Wiley-Blackwell. IJURR is run by a wholly-owned subsidiary of FURS.