We are very pleased to announce we have 2 new editors, Mona Fawaz and Eduardo Marques, who will be joining us from January 2023.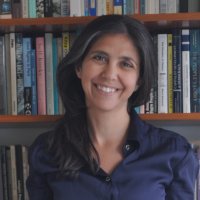 Mona Fawaz is Professor of Architecture and Design at the American University of Beirut, Lebanon. Mona's scholarly interests stem from the imperative of making cities more inclusive, particularly from the perspective of enabling low-income dwellers to take part in shaping their cities. Her work spans across urban history and historiography, social and spatial justice, informality and the law, property and space, forced population displacements, as well as planning practice, theory and pedagogy.
Aside from these scholarly interests, Mona has been involved in Beirut's ongoing transformations by publishing in the local press and speaking in numerous local venues where she has advocated for upgrading informal settlements, protecting the urban commons, improving urban livability, adopting more inclusive planning standards, and more generally, defending the right to the city for the urban majorities.
Eduardo Marques is Professor at the Department of Political Science, University of São Paulo as well as the Director of the Center for Metropolitan Studies CEM (Cepid/Fapesp). Eduardo does research on urban politics, public policy, social and urban inequalities and social networks. He was also the president of the RC-21 of the International Sociological Association (2014/2018), and acted as IJURR Foundation trustee (2012/2018).