'You want to bamba, you want to chill with the big boys'
– lyrics from Ameno Ampiano
Compare Lagos before the end of military rule in 1999 to Lagos in 2022: Wawu (wow), as some Nigerians would say. It has been argued that Lagos has changed from a neglected mega city of decay (Kuris, 2014) to a 'city of the future.' About one decade before the Africa Rising narrative (see The Economist, 2011) became prevalent, Bola Tinubu (1999-2007) and later Babatunde Fashola (2007-2015) were drivers of aggressive urban renewal projects in Lagos.  In addition to addressing the apparent dysfunction and mismanagement of Lagos (Packer, 2006), these actions were also aimed at addressing its teeming population issue – which has eventually plagued both international policy makers and local politicians/planners with apocalyptic visions of a 'disorderly' megacity (Agbiboa, 2018). To this end, Lagos's infrastructure and level of economic development were considered wanting. And so, Lagos officially became a member of the cult of urban entrepreneurialism ( 'cult' from the perspective of those adversely impacted) – determined to be a viable global city in the competition for global investments, regardless of costs to the masses. By Fashola's second term, these entrepreneurial pursuits were further propelled by the Africa Rising narrative; Lagos's desire to be Africa's economic hub and secure its place as a top destination for investment was threatened by fierce competition from rising strong urban markets like Abidjan, Accra, Kigali, and Nairobi. Lagos was also battling image problems especially after the BBC's controversial three-part series, entitled Welcome to Lagos aired in 2010. While the series aimed to humanize 'slum' spaces and the people occupying them, it also seemed to have colonial undertones that positioned Lagos as lacking, and further confirmed Western stereotypes about African spaces (see Akpome, 2017).
It thus became imperative for Lagos to sell the idea that it was now, and was still becoming, a modern, world-class city.  Take, for example, two city advertisement videos produced in 2014 by QCPTV, a multi-media production company that specializes in country and city branding. One of the videos points out that Lagos is 'Africa's Big Apple,' while the second video clearly makes a case for why Lagos is ideal for investors and tourists:
… Lagos has transformed itself from a sprawling urban melting pot into a must visit destination …Lagos is a city that dreams big. … One such ambitious project is Eko Atlantic City. …a futuristic new waterfront city. … on a par with the world's most established financial centres. The impressive and sweeping Eko Boulevard aims to become Lagos's answer to fifth Avenue New York … Lagos is evolving, helping shape the future of not just Nigeria, but Africa herself. Everyone has a part to play, the only question you need to ask is, what's yours? (emphasis added)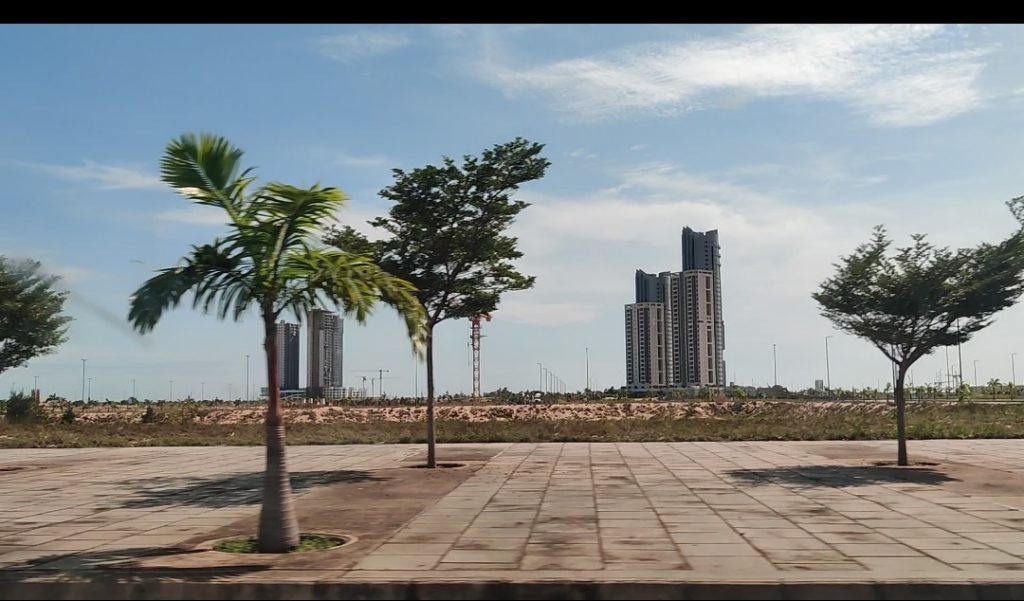 Eko Atlantic is a new coastal city being built on Victoria Island, Lagos. Parts of the city are on land reclaimed from the Atlantic Ocean. Eko Atlantic is expected to be the future 'gateway to emerging markets of the continent.' Photo: Grace Adeniyi-Ogunyankin, 2022.
The advertisement narrative clearly puts the onus on Lagos to demonstrate, and explain, to the 'global' that it has undergone urban transformation and that it is no longer an anachronistic city of a 'dark' continent of popular imaginaries. This production illustrates how Lagos engages in what I call the 'Afropolitan Imagineering' project of owambe urbanism. Afropolitan Imagineering is the production, both real and aspirational, of new images/narratives of Africa and Africans as world-class and cosmopolitan (Adeniyi Ogunyankin, 2018). Seduced by the belief that there is indeed a global urban hierarchy to move up in, African cities have embarked upon urban renewal projects, operating within a neoliberal framework, that strive to become symbols of modernity in the re-creation of cities that are more globally recognizable and that offer possibilities for transcending negative narratives about African cities. Owambe urbanism becomes a form of response to this notion of failed urbanism in Lagos.
Owambe is a Yoruba word and its use in the term "owambe urbanism" is inspired by owambe parties that are popular among the Yoruba people. Owambe has multiple meanings. It could be a way for the celebrant/host to state: 'I have arrived', and they would want guests to assert, 'it is happening here, yes, this person has arrived'. A guest aims to boast, 'I was there [at the happening event]'. Owambe can be a fleeting status, and thus one works hard to remain 'known', either as a potential invitee or as a host whose parties other owambes would want to attend. Perceptions about who and what qualifies as 'owambe' changes over time, as each progressive owambe party tries to outdo a previous one. Owambe is also aspirational: one may imitate/perform owambe and be in debt, or one may wait and work hard to become owambe, and then announce via a party that one 'has arrived'. I thus define owambe urbanism as a spatio-temporal project concerning destination, departure, arrival, identity and place-making. Specifically, it is about the struggle for global positioning and recognition, the aspiration to belong and overcome ostracism, the imperative to compare, imitate and outshine, the aesthetic of ostentation, the painful awareness of the precarity of status, and the ambition to become a trendsetter (Adeniyi Ogunyankin, 2019).
It is arguable that Owambe Urbanism is paying off in Lagos. The subsequent governors of Lagos state, Ambode (2015-2019) and Sanwo-Olu (2019-present), similarly bought into the visions of Tinubu and Fashola for Lagos. Within the cult of urban entrepreneurialism, there is bound to be incredible synergy.  Lagos is doing so well now; it has even been bestowed the title of Africa's silicon valley  and Africa's startup capital. Leveraging the urban entrepreneurial trailblazing path of his predecessor, Sanwo-Olu has made innovation and technology a top priority in Lagos. For example, since 2020, Facebook, Google, Microsoft have set up shop in Lagos, and Lagos is also flourishing with Nigerian co/owned startups, including 'unicorn' startups, valued at $1 billion+.
Imagining the Future: Youth and the Entrepreneurial City
I've become interested in how youth think about themselves in relation to the Owambe urban future that is currently being cultivated. As an EY 2020 report pointed out, Foreign Direct Investment is now less focused on the extraction and export of natural resources. Instead, 'global investors now come to Africa more often for the promise of its people than for its physical properties.' As such, it is important to think about African urban futures from the perspective of this 'promise of its people,' particularly the youth who make up the bulk of Africa's population. How are youth faring in relation to their construction as workers and consumer citizens, particularly in an urban environment that's marked by labour force competition and increasing socio-economic inequalities?
The youth unemployment rate in Nigeria is 42.5%. Given that job creation is a huge rationale for attracting regional/global investment, it is imperative to consider that being gainfully employed may not be the panacea it is purported to be (Okuwa, 2020). The international division of labour, combined with inflation rates, does not favour Nigerian youth. Lower labour costs in Nigeria make Lagos an ideal place for investment, thus contributing to high long-term returns. These low wages do not sit well with many youths; especially those who see the differences between 'local talent' and 'foreign talent' wages. As one participant in my research cogently noted: '…even though there are jobs, the jobs that exist are not considered jobs because of the ridiculously low wage. Once they remove their transportation, once they remove their feeding, nothing will be left.'
The challenges of being employed but unable to make ends meet is further compounded by youth experiences of work. For example, the recent allegations against toxic work cultures in some tech industries (e.g., flutterwave, BentoAfrica) and Twitter threads on #horriblebosses/#toxicworkplace reveal that work needs to be improved.  Despite this issue, some youths do not leave their place of employment unless they have a better offer elsewhere, which is often rare. As such, there is a need to further explore how youth imaginations about their urban future enable them to deploy coping strategies in some toxic work environments. It is also imperative that employers and businesses be held more accountable, even if it threatens urban entrepreneurialism.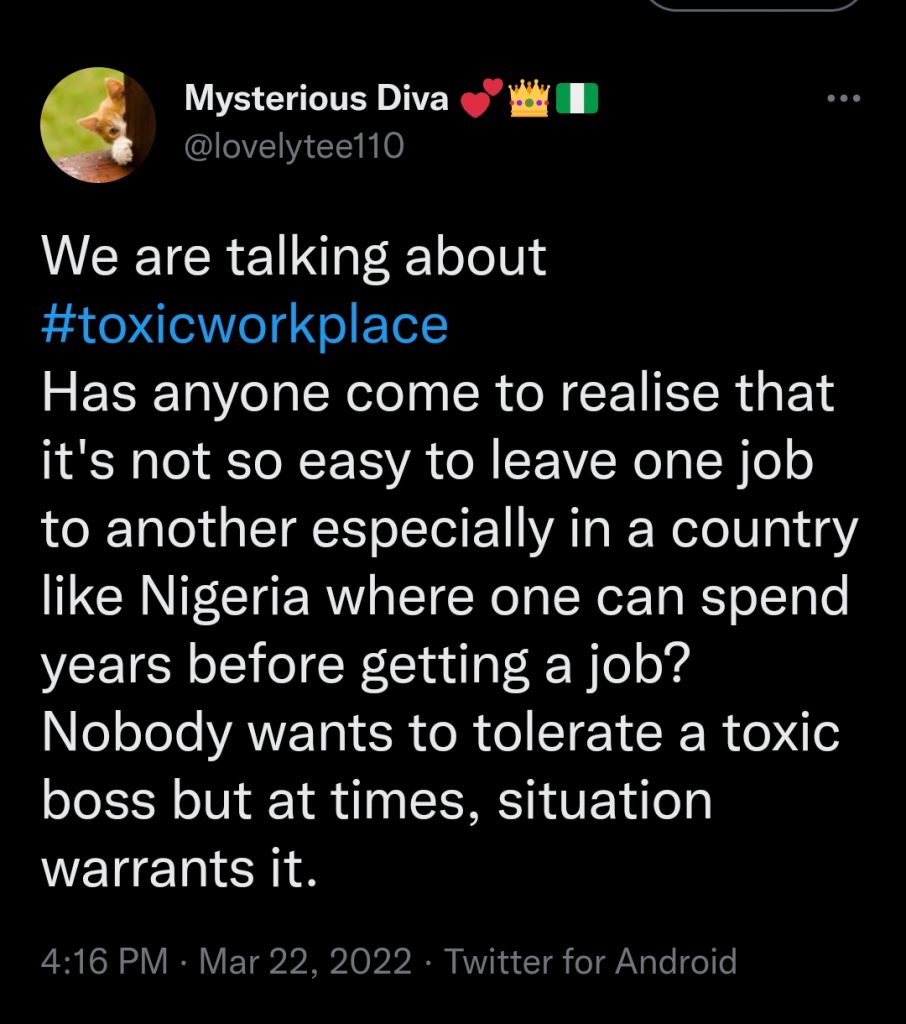 A tweet in response to the trending #HorribleBosses and #ToxicWorkplaces hashtags on Nigeria Twitter in March 2022. This tweet points out how difficult it can be to leave a toxic job.
Furthermore, considering the increased focus on the market and consumerism as sites for liberation, and the positioning of urban dwellers as consumer-citizens within the Africa Rising Narrative, we need more understanding on youth intentionality and agency (Fuh, 2012). Specifically concerning youth investment in affective labour to project themselves into the future, in new elite consumer spaces that have emerged. For example, while in conversation with a friend in 2018, she had chuckled at my confusion over the seemingly large number of youths that I found in certain consumption spaces in Lagos and Ibadan, given what I knew about low salaries and high rates of un/underemployment.  She informed me that some people were looking for 'aristos' and connected-people (e.g., someone who could help secure stable employment) in these spaces. She detailed the steps taken by some people she knew, and those she heard about second-hand, to use these social spaces as 'mobilees' (Skelton, 2013), thus becoming socially mobile. Some youth went on a strict financial diet – eating very little – until they had a decent amount of money to spend (participation in consumption is needed to access these spaces). And it is while participating that they hope to meet someone – lover or friend – who will help make their lives better. But they first had to  'package' in order to attract upper middle-class people. She then told me about her friend, 'Tayo,' who called her one day to tell her that she's about to invest her last Naira on ice cream at Coldstone Creamery. Unfortunately, after waiting for a few hours, Tayo had to leave. She had not been successful in meeting someone. Although upset, Tayo remained hopeful, she called Lola and told her: 'someone will eventually pay for this ice cream for me.' We both laughed and perhaps secretly admired her tenacity and hope, even if potentially unwise. To this day, I still wonder about the current rate of return of Tayo's investments. Lisa Adkin's (2016) explanation of investor subjectivity as cultivating an investor relation to the self by continuous investments in the present all in the promise of returns in the future resonates with Tayo's strategy.
Tayo's experience is also a perfect example of  Lauren Berlant's work on cruel optimism: Tayo periodically deprives herself of food (and most likely nutritious food), so she could save money to spend in spaces that buttress the neoliberal economy, in hopes that she will meet someone who would help her become middle-class. Food deprivation is not good for the body – arguably, it's a form of punishment. But this punishment that Tayo continues to inflict on her body is justified because she dreams of upward social mobility. However, there's no guarantee that this dream will come to pass (as illustrated by her frequent disappointments) – this is the cruel optimism of capitalism/urban entrepreneurialism.
Towards a different Urban Future…?
'Na you dey run kiti kiti. You dey run keta keta' (you are running helter-skelter, unsettled and in a confused state)
– lyrics from Ameno Ampiano
There is clearly no better example of owambe-ness than Lagos. Lagos is undoubtedly a city with stupendous wealth (Dosekun, 2020), a booming tech industry, a thriving hospitality sector, and seemingly never-ending real estate development (Financial Times, 2022). Lagos is also a paradoxical space with an incredible amount of socio-spatial inequality and ongoing incidences of social injustice. We must also take into account the now familiar and unjust tales of revanchist urbanism/geographies of exclusions (e.g., demolition and dispossession, ban on commercial motorcycles) and the environmental impact of owambe urbanism projects (Ajibade, 2017).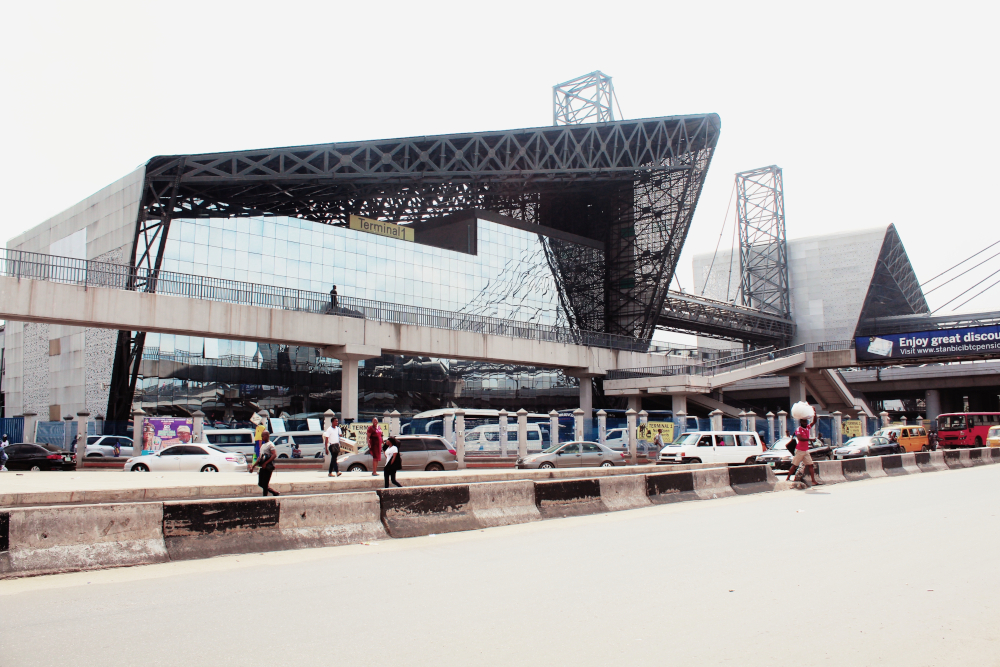 Oshodi Bus Terminal , heralded as a World-Class Bus Terminal and argued by some to have an aesthetic parallel to Dubai and London. Many traders were dispossessed in the process of building the terminal. Photo: Grace Adeniyi-Ogunyankin, 2022.
I started this article with an epigraph –  a lyric from the viral song, Ameno Ampiano. The song warns against joining a cult to obtain riches. Eventually, making it to the top and chilling with the wealthy has serious consequences as being a member of a cult ends up putting one's life in jeopardy. As such, one ends up being on the run. I think this song serves as a good reminder of the adverse impacts of capitalism in our lives, and in this case, our urban spaces and the everyday lives of our youth.
To this end, we must question the epistemological grounding of the cult of urban entrepreneurialism and take Stefan Ouma's (2020) provocation into account:
In order to revoke the current economic order, we need … to remake African economies … This does not mean that Africans must scale down on their desire to live dignified, fulfilled, and secure lives, but that anyone engaging with the future must dare to move outside a frame that may hold for only another few decades before it will fully fall apart.
This revocation needs to inform how we need to think of African urban futures outside of, and against, the Afropolitan imagineering project of Owambe urbanism.
Grace Adeniyi-Ogunyankin (Twitter), is an Associate Professor in both the Department of Gender Studies and the Department of Geography and Planning at Queen's University. Her current research examines the impact of contemporary urban transformations on youth identity, labour practices, psychosocial well-being, and future orientation in Lagos & Ibadan, Nigeria. Grace Adeniyi-Ogunyankin receives funding from the Canada Research Chairs Program and the Social Sciences and Humanities Research Council.
All essays on African Futures
Related IJURR articles on African Futures